Next stop in my series of posts about where your Alaska Mileage Plan miles can take you is the South Pacific.  Alaska has multiple partners that fly to Australia and the South Pacific. For many frequent flyer programs, awards to this region can be a weak spot in terms of cost, routing rules, and availability. Alaska has a lot of options for making it to Australia and the South Pacific, it is my opinion that with respect to this region Alaska beats out a lot of the competition.  Without further ado, here are Alaska's South Pacific partners.  
When it comes to direct flights to Australia and the South Pacific from the mainland you are limited to flights from Los Angeles to Tahiti, Fiji, Sydney, Melbourne, and Brisbane.  You can also catch flights from Honolulu to Fiji and Sydney.  If you want to reach other destinations within Australia most likely you will need to use Qantas, which has a very extensive domestic network within Australia.
Qantas Domestic Routes
The fun with Mileage Plan awards to Australia and the South Pacific comes when you add connections with Fiji, Cathay, or Korean.
Fiji Airways South Pacific Routes
Cathay Pacific Australia/New Zealand
Korean Air Fiji and Australia
If Australia is your final destination you can make stops in Seoul, Hong Kong, or Fiji on your way to Australia.  Where things can get even more fun is if you book two one ways with these partners and build an award that takes you to Fiji, Australia, and Hong Kong, for example.  You could even make a stop in New Zealand if you wanted to throw in a connecting flight that you pay for.  For example,  if you paid for a flight between New Zealand and Sydney you could build an itinerary like the following.
This could be done with a one way award from LA to New Zealand with a stop in Fiji on Fiji Airways. From Auckland you pay for a flight to Sydney and then you book an award flight from Sydney with a stop in Hong Kong on your way back home.  This award would only cost 115,000 miles in business class.  With the variety of Alaska's partners and their generous routing rules, you can build some pretty creative itineraries.
Searching for an Award
Air France, Delta, Fiji, Korean, and Qantas can all be searched online on Alaska's website. Unfortunately, you cannot search award space for Cathay Pacific on Alaska's website.  I prefer to search for Cathay Pacific award space on Qantas' website.  To book a Cathay Pacific flight, search on Qantas then call Alaska and book it over the phone.
Generally speaking, premium cabin award flights to Australia are some of the hardest awards to come by in the frequent flyer world.  This is especially true if you want to fly on Qantas.  If you are looking for a direct flight then in all likelihood you will need to book your award 11 months out.  Even then, finding award space in a premium cabin will be difficult. You will just have to be diligent and flexible with your dates.  It is for this reason that if I were to book an award to Australia I would build in stopovers in places like Fiji and Hong Kong because Cathay and Fiji are more generous with their award space.
Favorite Awards
1. Cathay Pacific Coach/Business/First for 80k/120k/160k
When it comes to transpacific award flights, I feel like Cathay is king.  They are very generous with their award space.  So long as you keep flexible dates you should not have a problem booking an award on Cathay Pacific, plus you can build in a stopover in Hong Kong.  You can also book a one way flight for half the miles.
Cathay Coach
Cathay Business
Cathay First
2. Direct Flights on Qantas in Business of First Class 110k/140k
As I mentioned above this one is easier said then done.  Qantas is a notoriously hard award ticket to book.  This is in part because Qantas releases their award space 12 months in advance, but Alaska only allows you to book 11 months in advance.  In the meantime frequent flyers with Qantas and other airline programs will snatch up those seats before you get to the 11 month mark.  My advice for booking an award on Qantas is to use Qantas' website to look 12 months in advance.  Write down the dates that are available and when it becomes bookable with Alaska book it ASAP.
Coach tickets on the other hand are very plentiful, but 16 hours in coach sounds like hell on a plane.  I would prefer this,
Qantas Business Class
Qantas First Class
over this.
Coach
3. Air France to Tahiti
Air France operates a direct flight from LA to French Polynesia, aka Tahiti.  An award in coach is 80k roundtrip or 120k in business.  I will be flying Air France business class in June so I will report back on the the experience, but my guess is that it is worth the extra 40k miles, if you have it.
Click here for a review of Air France's Business Class to Tahiti
4.  Combining Partners: Fiji and Cathay in Business Class for 115k
For me, If I were to fly to Australia this is the route I would go.  Qantas availability is so hard to find I would forget that, fly Cathay and Fiji, and build in trips to Hong Kong and Fiji
I would also, depending on the price and how much time I had for this vacation, consider adding a paid flight from New Zealand and maybe book the award I mentioned earlier in this post.
Cathay Business Class
Fiji Business Class
5.  Fiji Airways Round Trip to Australia from Hawaii for 55k.
This award peaks my curiosity for a couple of reasons.  First, I don't care if this is in coach, flying to Australia for 55k plus a stopover in Fiji is a steal.  Granted you have to position yourself to Honolulu but that brings me to the second reason I am curious about this award – this award routing rule:
"For members redeeming an award on a partner airline, connecting travel will be provided by Alaska Airlines to the nearest gateway city of the airline partner at no additional charge. Connecting flights should be requested and reserved at the time the award travel is booked and ticketed. Travel is for connection purposes only and subject to availability and routing restrictions."  (Mileage Plan Conditions of Membership)
This rule makes me wonder if you can book this award and then ask them for a connecting flight.  I have tried to book this award online with a connection from PDX to HNL and I can't get it to work, but I haven't called and asked.  However, even if you can't get a free connection, you could put one of those companion passes (if there are two of you) to good use and buy a positioning flight to HNL.   For 55k roundtrip, that might be worth the price of a ticket to Hawaii.  Plus then you get a vacation here: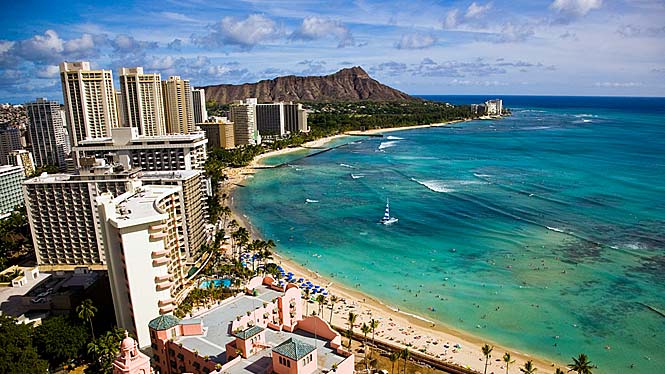 here:
and here:
I think Alaska Airlines Mileage Plan is an excellent miles currency to use for booking an award to Australia.  The ability to build in stop overs in places like South Korea, Hong Kong, and Fiji on your way to Australia sounds like a fun way to burn miles.  Why visit one place when you can go to two places for the price of one?
RELATED POSTS
Alaska Award Routing Rules
How to Earn Alaska Miles
Alaska Domestic Awards
Alaska Awards to Asia
by